Madden 19 Ultimate Team: Two New Primetime Performers, Zero Chill OOP MUT Cards
It's time to get those Ultimate Team rosters upgraded. As Madden 19 Ultimate Team Zero Chill event continues, they've unveiled a batch of new player cards for MUT enthusiasts. The latest group brings several new NFL Primetime Performers including an Atlanta Falcons star. There are also a few new Out of Position Ironmen to look for. Here's a look at which MUT player cards are now available through the promotion.
Madden 19 Ultimate Team: New Primetime Performers
On Thursday (Dec. 27), EA unveiled two brand new Primetime Performers as part of the Madden 19 Zero Chill promotion this month. They are the Atlanta Falcons' Matt Ryan and Cincinnati Bengals' Geno Atkins. Both of these are 95-rated MUT player cards for Ultimate Team gamers. While his NFL season hasn't been playoff-worthy, Ryan comes with some great passing skills. They include a 96 Play Action, and 95s for both Throw Accuracy Short or Throwing Under Pressure.
Geno Atkins and the Bengals won't be heading to the postseason either. However, this new Primetime Performer card brings skill ratings such as a 96 for both his Play Recognition and Block Shedding. There's also a 94 for Power Moves and 91 for his Tackle ratings. These two Primetime Performer cards will surely bring Ultimate Team gamers some help with their squads.
Madden 19 Ultimate Team: Zero Chill OOP Players
Meanwhile, as the Zero Chill promotion continues on, they have released several new Out of Position (OOP) Ironmen for gamers to check out. In the tradition of the Ghosts of Madden, they revealed a new Ed Reed as a strong safety and a Kam Chancellor at the middle linebacker spot.
Reed enjoyed an 11-year career as a defensive back mostly with the Baltimore Ravens before retiring in 2013. However, he played in 174 games and had 64 interceptions. Reed's career numbers also included 1,590 yards and seven touchdowns. Here's a look at the new MUT Zero Chill OOP Ghosts of Madden card for Reed as a strong safety.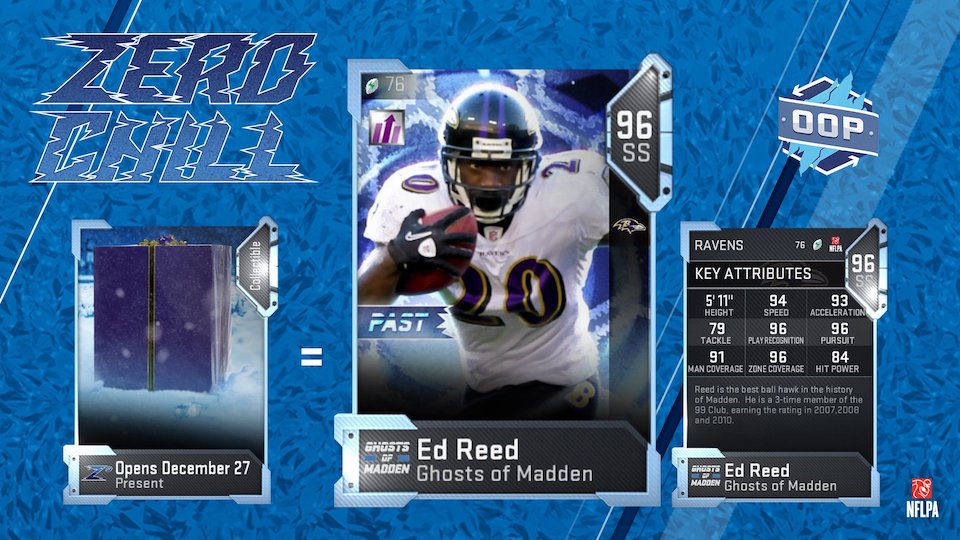 Kam Chancellor is well known as a member of the Seattle Seahawks' "Legion of Boom" defense that helped bring them to the Super Bowl. That group has since been broken apart with players leaving for new teams.
Chancellor has remained part of the Seahawks since arriving there in 2010 but missed this entire season due to a severe neck injury. Still, he's compiled 12 interceptions for 168 yards in his career. He's also got 434 solo tackles, all of which came as a defensive back. Now gamers can use him as a middle linebacker for their Ultimate Team roster.
The latest Zero Chill cards join other OOP cards for players including the Bears' Tarik Cohen, Rams' Ndamukong Suh, and former Raiders great Tim Brown. Find them within MUT packs or through the marketplace, but make sure to go for a price you feel comfortable with!
Breaking news, my friend! Anyone who needs substantial Madden 19 Coins under a reasonable price, we have a treat for you now.MMOAH is providing a great service for Madden 19 Coins for sale, along with big discounts as well. Follow the Cheap Madden 19 coins for sale or cheap Madden 19 Coins to view more details or purchase now!